Movies that Touch on Grief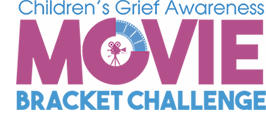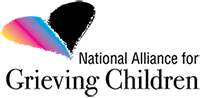 Think of how many movies address death and its complicated aftermath. With so many different perspectives on death and grief, it's likely that one or more movies speak especially deeply to our own experience of grief. How many times have children and families found comfort in a movie after they've experienced the loss of a loved one (including the loss of a beloved pet).
To help bring awareness to and to generate conversations around these movies and children's grief, the first-ever Children's Grief Awareness Movie Bracket Challenge has been set up in partnership with the National Alliance for Grieving Children.
In this bracket challenge, you will be able to vote for your favorite movies for children and families who are grieving.
Ranging from lighthearted to serious, the films listed here feature characters who deal with the devastation of death yet also find support and comfort as they process their emotions and learn to move forward.
Ready to fill out your bracket? Download it.
Scoring
Once each round's winners have been selected, scoring for brackets that are filled out is as follows: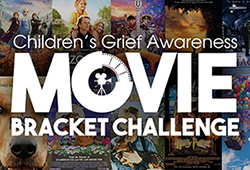 1 point—each First Round match-up winner correctly guessed
2 points—each Second Round match-up winner correctly guessed
5 points—each Third Round match-up winner correctly guessed
10 points—each Final Four match-up winner correctly guessed
20 points—Finals match-up winner correctly guessed
Haven't watched all of these movies? Pick a movie and schedule a movie night with your family!
And remember, the conversations that come after watching the movies together can be even more meaningful than the experience of watching the movie itself. Be open to sharing together whatever this experience has opened up in you and your family. This can be a bonding — and healing — time together.
Article gathered from:
https://www.childrensgriefawarenessday.org/cgad2/movieChallenge.shtml